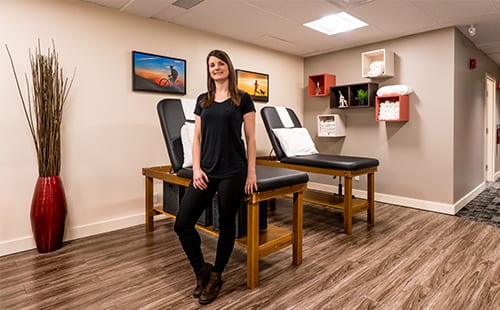 Your first visit physiotherapy session includes
a detailed assessment,
education on the findings,
a full treatment,
and a prescribed exercise program, if appropriate for you.
The physiotherapist will discuss the frequency and how many treatments you will need to achieve optimal results.
Our facility provides you with a designated area for therapeutic exercises.
Subsequent treatments will allow you to use this area to compliment your rehabilitation.
Our Services
Find out about Manual Therapy and how it may be beneficial to you. Manual therapists in Orléans, Ottawa have advanced clinical expertise in hands-on treatments.
Dry needling is used to alleviate musculoskeletal pain and tension. Moveo Physiotherapy has trained physiotherapists applying dry needling in Orléans, Ottawa.
Intramuscular Stimulation treats the source of the problem and not just the peripheral complaint. Patients who have chronic pain may benefit from this approach.
Graston Technique® is instrument assisted soft tissue mobilization. Renée and Andrea are both certified Graston Technique® Providers in Orléans.
Acupuncture is a tool from traditional Chinese Medicine that treats the body as a whole system. It is effective in the treatment of acute & chronic conditions.
K-Taping is an application of non-medicated tape along a nerve or muscle while you are still able to maintain mobility of your joints.
Through gentle hands-on techniques, the therapist releases tensions and restrictions. It is effective for clients of all ages with various chronic conditions.
Visceral Manipulation involves specific hands-on techniques to mobilize the soft tissue system of the internal organs of the thorax, abdomen, and pelvis.
Exercise prescription is an important part of your rehabilitation. Moveo Sports and Manual Physiotherapy offers a spacious area for exercises at the clinic.
Contact us about Sport and Manual Physiotherapy in Orléans