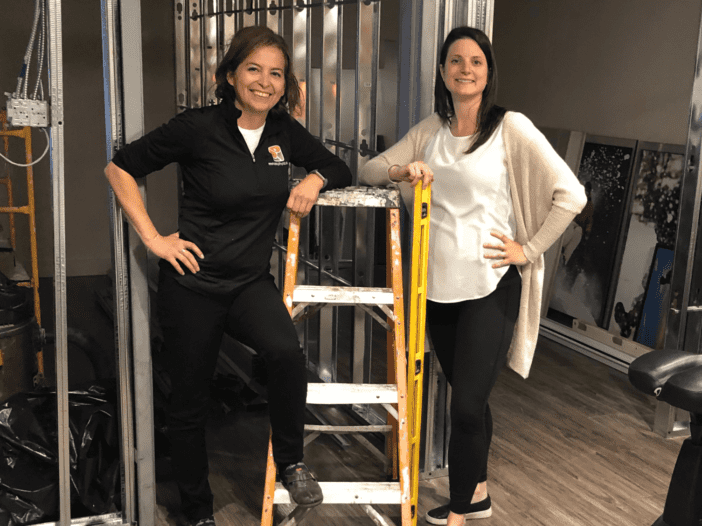 This is our story and we are happy to share it with you!  In times like these, it's important to know the faces behind the businesses in our communities.  Just like many other businesses in Orléans and Ottawa, Claire and Renée are regular people, with their own families, and who care for their community.  
We met as professionals in the city and it didn't take long for us to get along! We got together one early morning to watch Claire's son play hockey. Claire had Renée at: "Hey, would you want to open a clinic with me?" That was the start of a yearlong planning event. We carefully elaborated our business plan, we researched the market, jotted down our mission and vision and meticulously calculated financial projections. This took many months, many drafts, many edits, and many bottles of wine.
Claire was born and raised in Orléans and had already had a home practice. It wasn't hard to convince Renée that Orléans was an ideal location to offer our services. Renée is an Acadian from a small town in New-Brunswick and she already could feel the warmth of the community in Orléans, similar to her home roots.
The name Moveo Sports and Manual Physiotherapy was inspired by the way it sounded! We were looking for something unique that would stand out for the community in Orléans. It took a full evening, a bottle of wine and a blackboard to brainstorm the right name for the clinic we envisioned.
Did you know? Moveo derives from the latin word movere. It is defined by motion, agitate, affect, influence, provoque, jolt. The action to move, set it motion. How fitting for us!
From the floor plans to choosing the color of the walls, we were part of every decision. We felt like anterior designers at times! In case you didn't know, we were all hands on deck with the construction journey. We build Ikea furniture, placed baseboards, learned how to use power tools, painted, painted and painted some more. We quickly figured out that hardware stores opened early and closed late.
Our families were also involved in the process. We kept working with patients through the construction and would contribute when we could late in the evenings and through the weekends. The vision of our clinic and ABBA playlists kept us going on these late evenings. It took about 3 months to complete our project. We officially opened our doors March 7th 2016. On our grand opening event, we were surrounded by all the amazing people who supported us through this journey and for years to come; family, friends, patients, colleagues, other professionals, members of the community and politicians.
We both envisioned a place that felt warm, bright and cozy, yet professional. We still feel today that we have achieved this. We both love coming to work and stepping into a space that we created for ourselves, our colleagues and for our patients. Our space is filled with great conversations, laughter and a sense of belonging.
Fast forward to today.  We have a fabulous administrative team that supports us through the day.  Without them, we wouldn't be able to deliver the service that we provide each day to our patients.  Our team of physiotherapists in Orléans, Ottawa consists of amazing people who strive each day to offer the best for their patients and we couldn't ask for anything more.  
To this day, every time we tackle new projects or discuss future plans for our business venture, our excitement is the same as that day at the arena.
It is a true privilege to serve the Orléans and surrounding area community. We are lucky to love our profession and are able to enjoy every day in our own space! Thank you for your trust.
With sincere appreciation,
Renée and Claire