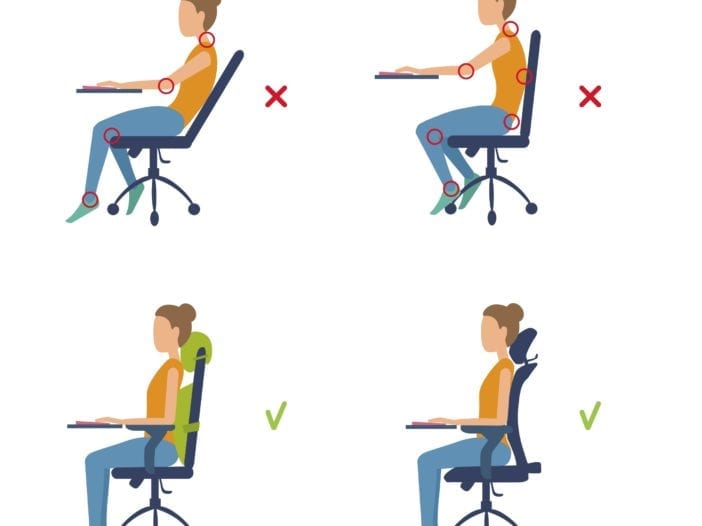 A few strategies can be used to help improve the strains you may be experiencing from working from home. In this time, we all have to be a little creative. Let us help you out!
Time to mix it up! Working in a seated position is not necessarily the problem. Perhaps the problem is being seated for a prolong time. Setting up an alarm to allow frequent position breaks is a great way to avoid this problem. Maybe you can vary your seated space too by alternating sitting at the kitchen table and standing using a higher surface for your laptop, such as at a kitchen island.
Setting up some time for meaningful breaks. Standing up is not necessarily enough. Allow yourself to go for a 15 minute walk mid morning. Lunch time could be allocated for a 15 minute stretching routine.
Avoiding prolong strain by improving your seated posture. Ideally, you want to have your wrists and elbows resting at the same level. Elbows should be supported by arm rests. Avoid reaching out towards your computer by bringing your body closer to your work space. Your eyes should be focused straight, avoiding looking down. Using a pillow in your low back can help you keep that low back supported and improving the posture moving up your spine. Please refer to image below for ideal positioning when seated.
Time to get creative and think outside the box! How can you elevate your screen? Have you thought of using another chair in the house? If you are sitting on the couch, maybe the use of a pillow under your computer would help. If the surface you are sitting on too soft or too hard? If you are on a conference call, stand up and walk around.
If you have done yoga or have done some general stretching routine exercises in the past, time to revisit this approach. Keep in mind that we are unable to give a specific home exercise program through this informative post. We do give a lot of exercises through our practice, but doing them wrong and not knowing your personal health related issues could be more harmful to you. We strongly suggest to consult for a virtual session if you need one on one indication on a home exercise program to help with your overall posture.
We hope that this post has been helpful to remind you of simple things you can adopt through your day to help with day to day strains that can arise from working from home.
Do not hesitate to contact us at [email protected] to set up an appointment for a virtual consultation. Our physiotherapists can help the Orléans and Ottawa community!  Posture related strains are easy to fix with a look at your work space and a specific home exercise program catered to your needs is often a key element of the rehabilitation process.